We made this...
http://www.discommon.com/goods/the-watch-wallet-grey
Here's a movie of us making it, grab some popcorn, just kidding it's only a minute long.
---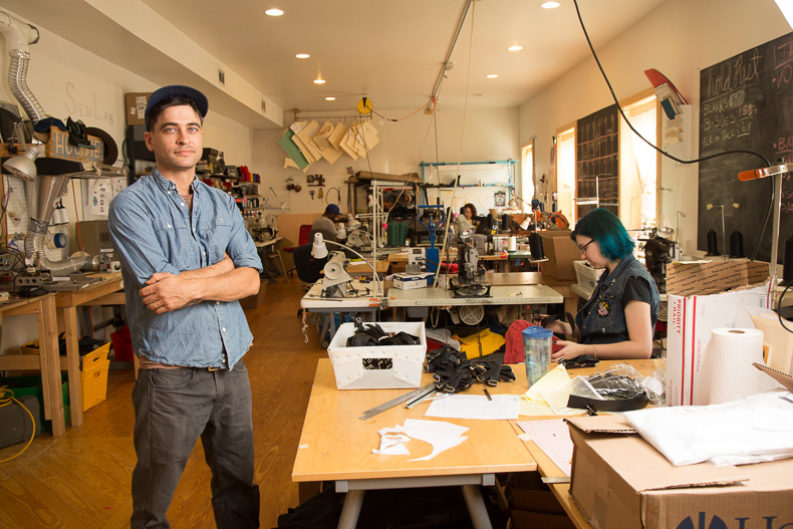 "Bmore's Creative Natives Popup
Shop, dance, and drink the night away, as Strangers with Style and SewLab USA partner up to host Bmore's Creative Natives Popup this Friday, July 31 at the Windup Space. There will be a variety of cool products from local vendors For Rent Shoes, Doubledutch Boutique, Sixteen Tons, 3Clothing, SewLab USA and many more. The shopping will begin at 7 p.m. and will be accompanied by performances starting at 9:30 p.m. from artists including Eze Jackson...
---
Fast Forward
Building Bags With Hold Fast Custom by Will Holman
In 1853, the Mt. Vernon Mill Company built Mill Number 2 at the corner of Chestnut Avenue and the Falls Turnpike (now Falls Road). Powered by the flow of the Jones Falls, the Mt. Vernon complex produced cotton duck continuously until 1972, when production was shut down in the face of increasing overseas competition. Mill Number 2, along with Number 3, limped along as storage buildings for the next fifteen years. In 1987, they were renovated into the Mill Centre, a complex of studios, galleries, and professional offices that kicked off a development boomlet that has brought us Clipper Mill, Meadow Mill, Union Mill, and Mill Number 1.
In the midst of all these conversions – stout old factories turned into high-end restaurants and high-ceilinged apartments – a young couple is bringing textile work back to the Jones Falls Valley. Hold Fast Custom was founded by Jeremiah Jones, 36, and Cecilia Grimm, 37, (along with business partner Robert Hall) in Brooklyn in 2009. Their first product was a bombproof toe strap for pedals on fixed-gear bikes.